Most investors fail to pick the right kind of stocks or often get trapped into holding stocks longer than required which makes them lose money. Another trait observed is a majority of investors lack discipline while investing due to lack of an appropriate exit strategy or entry plan to assess the favourability of an investment's risk-reward ratio.
Due to these reasons, a large number of investors end up eroding their capital and fail to even meet index returns. KyaTrade was created to solve these issues majority investors face and help them invest in well-researched consistent ideas which are convenient to act upon and which will be profitable enough to beat the market.
In this article, we'll cover the best practices you must employ with your KyaTrade Investment Plan to improve your chances of making wealth in the long run.
To minimize your losses and maximize your gains, the best practice is to diversify and invest in as many opportunities as you can with the "Trade All" option on KyaTrade. 
Despite our best efforts to curate profitable ideas, not every opportunity will make money, but our endeavor is to at least have a strike rate of 70% to 80% across the ideas we offer. Since there is an efficient risk management system in place, each position could give gains in the range of 30% to 40% while the losses will be limited to only about 10% to 15%, cutting losses out quickly. 
To elaborate further, there is an illustration of a portfolio of Rs. 5 Lakhs which when position sized across 10 trades with Rs. 50,000 each achieves a strike rate of 70%.
| | | | |
| --- | --- | --- | --- |
| Trade No.  | Investment Amount | Gain/loss (%) | Profit/ Loss |
| 1 | 50,000 | +30% | +15,000 |
| 2 | 50,000 | +30% | +15,000 |
| 3 | 50,000 | -10% | -5,000 |
| 4 | 50,000 | +40% | +20,000 |
| 5 | 50,000 | +40% | +20,000 |
| 6 | 50,000 | -10% | -5,000 |
| 7 | 50,000 | +30% | +15,000 |
| 8 | 50,000 | +40% | +20,000 |
| 9 | 50,000 | -15% | -7,500 |
| 10 | 50,000 | +30% | +15,000 |
| Total Investment and gain | 5,00,000 | 20.5% | 1,02,500 |
With a net gain of Rs. 1,02,500 across all 10 trades, the investors end up earning a net return of 20.5%. This gain is not only because of our research but because of an efficient risk management strategy that restricts losses to just 10%-15%. 
By allowing your winners to ride longer and cutting your losses short you can focus to improve your overall portfolio returns which is what KyaTrade aims to achieve for you.
Manual overriding of positions
DO NOT override the recommended settings! The KyaTrade app suggests position sizing based on your available capital and by weighing the risks for your portfolio; altering the position sizes will hamper your overall returns.
Moreover, tampering the active positions by manually force exiting a trade is not recommended. Since KyaTrade comes with predefined entry, target, and stop-loss prices, prematurely exiting a position will only steer away from the original intended idea, and most definitely lead to a negative outcome. Let the profits ride till any of the exit conditions are triggered.
Premature exits are only recommended if Samco's research prompts such an action based on their observation of the stock's momentum, change in its trend, breakouts, breakdowns, etc. 
Note: If Samco's research decides to close an opportunity, you will get a prompt notification for exits, and you will have to manually exit the order from the app.
It is recommended that you hold a minimum capital of Rs. 200000+ in your Samco account for investment with KyaTrade. 
KyaTrade does not give penny stocks as investment ideas; it suggests ideas in only the top 200 to 250 most liquid stocks with high trading volumes. Investing in all such liquid stock ideas demands a capital influx because of the high ticket size. And it is only by deploying your capital in all the ideas in a systematic way as recommended by the KyaTrade app, that you mitigate your risks and improve your profitability over time.
KyaTrade offers stock recommendations with a medium to long-term view, & a 70%- 80% strike rate. The opportunities expire if the risk-reward equation becomes unfavorable.
It is essential you don't pick and choose and instead invest in all ideas. By investing in all ideas recommended by the KyaTrade app, can you minimize sectoral risks and achieve the intended goal.
Follow these 5 best practices with the KyaTrade Investment Plan to improve your chances of making wealth in the long run.
And remember, only by educating yourself constantly, adhering to strict money management rules, and being prepared for the inevitable ups and downs can you create long-term wealth.
Watch this short video by Samco's Chief Markets Editor, Mr. Apurva Sheth, as he talks about the KyaTrade Investment Plan in detail and the best practices you must employ to make the most out of your Investment Plan subscription.
Trading on the KyaTrade app:
Swipe right for ideas you'd like to trade.
Swipe left to reject the idea.
Swipe up for the next trading idea.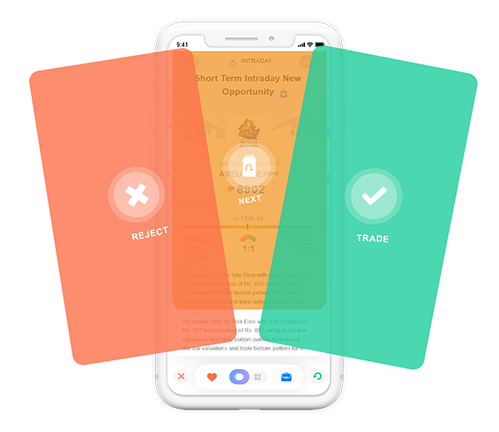 To help you get started on KyaTrade today, we have a special offer for you as well.
Special Offer of KyaTrade:
We understand that you'd like to experience KyaTrade before committing to our subscription plans. This is why we're offering the first-month starter pack for just Re. 1.
We also give you a 100% refund guarantee* on your subscription fees, in case you don't make money on our Investment Plan recommendation. *Read T&Cs
KyaTrade app access:
For existing clients:
You can log into KyaTrade with your existing Samco account; use your Samco client code and trading password to access KyaTrade and start trading and investing right away!
For non-existing clients:
Since KyaTrade is a Samco exclusive product, you need to have a Samco account to access it. To get unrestricted access to KyaTrade today, open a free Samco account now → 
Without further ado, download the KyaTrade app and start trading and investing with high-conviction ideas today.
For more info, visit the KyaTrade website: www.kyatrade.com
If you wish to suggest additional features or give feedback on the app, please write to us at mobileapps@samco.in with your user ID; we'd love to get your inputs to further improve our application and deliver better trading and investing experience for you.
Important links:
KyaTrade Introduction | KyaTrade Investment Plans | KyaTrade IntraDay Plans | KyaTrade Pricing | KyaTrade FAQs